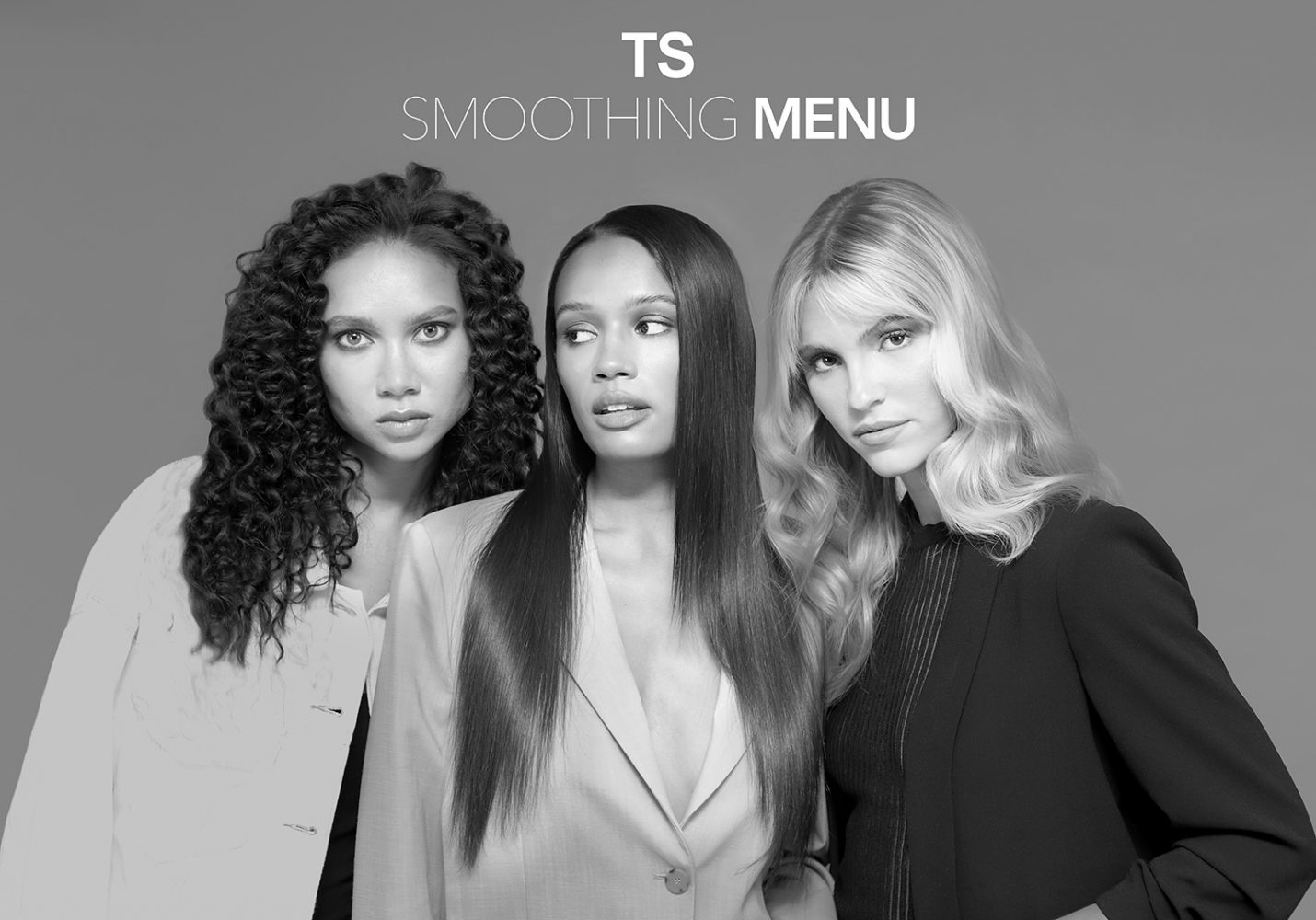 Have you heard the hype surrounding Brazilian blow dries to combat unruly hair? At Trevor Sorbie we specialise in an upgraded version, along with a complete smoothing treatment menu with three different smoothing treatment options depending on your hair type which use the latest technology and a patented Hyaluroplasty innovation. Your hair fibres will be softened from within to leave you with smooth, sleek and frizz-free hair which gleams with shine!
You can say goodbye to unwanted unruliness and hello to improved hair texture. You'll enjoy lasting smoothness for up to 6 months, more versatility styling and enhanced shine with our targeted Smoothing Treatment menu which has different options according to your hair type.
How does our latest non-keratin smoothing treatment eliminate frizz?
Our innovative, biotechnical smoothing treatment will give you the glossy, glass-like hair of your dreams. With our advanced, vegan smoothing treatment your hair will be straightened, smoothed and beautifully soft to the touch with impressive frizz-eliminating results.
Our latest non-keratin, 100% formaldehyde free smoothing treatment is kind to your tresses while giving you long lasting smoothness. You can put down the taming tools and breathe a sigh of relief as our smoothing treatment helps you to achieve sleek and  more manageable hair after just one session. Come and visit us at one of our luxurious Trevor Sorbie salons to speak to one of our hair experts and find out if it's the right smoothing treatment for you!
Not only will any frizz be reduced, you'll enjoy softer, more hydrated and stronger hair from within with our second-to-none hair smoothing treatment. After visiting us at Trevor Sorbie, you'll be worry free in humid conditions, save time on styling and enjoy head turning hair.

Which hair smoothing treatment is best for me?
It depends on the texture, length and condition of your hair. One of our expert stylists will be able to advise you on how to achieve your desired objectives with our in-salon smoothing treatments powered by Lakme Aura. All of our sustainable smoothing treatments use our patented Hyaluroplasty technology for visibly softer, stronger and shiner hair which shows visibly less frizz in even the most humid conditions. Which smoothing treatment will you pick from our Smoothing Menu?
TS Beauty Smoothing Treatment
If you have minimal frizz but just want your hair to look instantly healthier with a shine perfecting boost, we recommend the TS Beauty Treatment. This express smoothing treatment is suitable for all hair types and minimises frizz while leaving your hair with an enviable shine. This 15 minute smoothing treatment is the perfect add-on after your in-salon colour to leave locks sleek, silky and intensely hydrated for up to 6 washes.
The TS Smoother Treatment
For more coarse, unmanageable frizz which reacts to humid conditions, we recommend this more intense smoothing treatment. This smoothing treatment banishes frizz, controls the volume and easy maintenance of curls and allows you to enjoy the option of blow-dried sleek hair which is soft to touch. Suitable for most hair types, you'll love the versatile results of this pampering smoothing treatment which controls your frizz and allows you to style your hair, your way. Inject some TLC into your tresses and enjoy frizz-free results which last for up to 4 months.
The TS Sleek Treatment
If you have medium or coarse hair, we recommend our most nourishing smoothing treatment which gives the longest lasting results. Our deeply restorative treatment is for those who want their hair to be as sleek and frizz-free as possible while benefiting from healthy shine. You'll enjoy deeply moisturised, manageable locks with reduced drying time and a natural finish. How long does the Sleek Smoothing Treatment last? Up to an incredible 6 months!
How often should I have a hair smoothing treatment?
When you visit us at Trevor Sorbie, one of our award-winning  hair experts will be able to analyse your hair and recommend a non-keratin smoothing treatment according to your hair type, needs and objectives. How often you need treatment depends on the texture, thickness, damage and any hair colour treatments you have. Alongside your smoothing treatment we recommend you use Pureology products at home to maintain the best silky-smooth results.
How do I get the best results?
Regular hair cuts at one of our award-winning salons can help to tame frizz, remove dead ends and promote healthy, smooth hair. Reducing the heat from hair dryers and styling tools can help minimise coarseness and get the most out of this treatment. Investing in professional products such as Pureology's Smooth Perfection range can help control frizz, detangle and soften your in between your in-salon smoothing treatments.
Can I keep my hair texture, curls or coils with a smoothing service?
The answer is yes! Embrace your natural beauty but minimise unwanted frizz, coarseness and unruliness with all of our smoothing treatments at Trevor Sorbie. Whichever smoothing treatment you choose, you'll enjoy more hydration and softness, along with more manageable hair. You'll be able to discuss which smoothing treatment is best for you and your desired objectives in your consultation with one of our expert stylists.
Take the first step towards more beautiful hair and book a consultation with one of our experts at our award-winning salon find your nearest salon or book your appointment here.