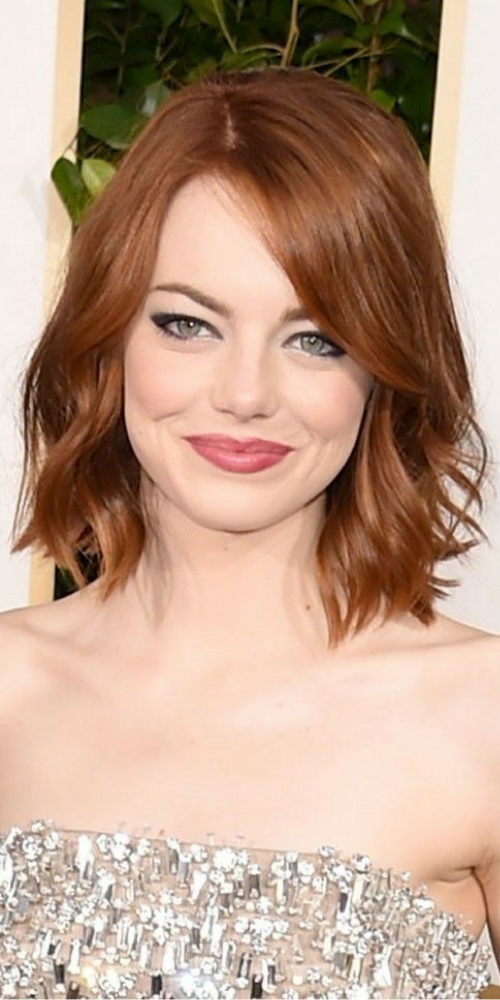 Matching a client to their perfect style is something that comes easily to our hairdresser's (which is why we always recommend a free consultation). However, for those of us without their hair credentials it can be very challenging. There are lots of factors to take into account when choosing a new style, and one of the most vital is your face shape. This can often be the deciding factor on the shape or length of your style. Therefore it's important that you diagnose it properly! This guide will explain the most common face shapes, how to recognise them, and the best styles to suit them. You can see examples of each face shape in the gallery below.
RECTANGULAR
The corners of your hairline and jawline are roughly the same distance apart with a strong shape, and your face has more width than length.
If you have a rectangular face shape, you might want to try medium length styles. Adding fullness at the side of your face will help shorten its appearance. Layers work great with rectangular faces, as they will add softness to the straight lines of your face. Other recommended styles to try are side partings, and (if you're feeling brave) a straight back look.
STEAL THEIR STYLE: Sarah Jessica Parker is a great example of someone with a long face – her big, tousled curls are perfect for balancing out the length of her face.
SQUARE
The corners of your hairline and jawline are roughly the same distance apart, and you face is equally long as it is wide, giving the appearance of a very strong jawline.
If you have a square face, the key is to balance and soften your jawline. A soft, wispy fringe is great for softening square features, whereas a strong, one-length fringe will only draw attention to your angles. An off-centre parting with volume through the crown is a great look to try, or any waves/curls that will contrast to the sharp angles of the face.
STEAL THEIR STYLE: Olivia Wilde has a very strong, square jaw – she oftens wear her hair soft and tousled with a sweeping fringe to flatter this shape.
ROUND
Your face is very circular in shape and roughly the same width as length, with soft features.
Most people with very round faces are keen to give the illusion of narrower, slimmer cheeks. Your hair is one of the easiest ways to do this. Round faces look great with side partings, and can carry off sleek, long styles. Creating layers through the front of the hair can cut into the cheekbones helping, to reduce their round appearance.
STEAL THEIR STYLE: Emma Stone is a great example of someone you probably didn't realise has a round face – she always keeps choppy layers around her face partnered with a side parting for a slimming effect.
HEART
Similar to the diamond mentioned above, you have have width at your temples tapering down to a more pointed chin.
One of the most flattering looks for a heart shape is a chin-length bob, as this gives width to the lower face to balance out your features. Side partings with soft, sweeping fringes will also look great.
STEAL THEIR STYLE: Reese Witherspoon is the best example of a dramatic heart shape – she always keeps her hair chin-length or longer to balance out her narrow chin, and soften her wide forehead.
OVAL
Your features are very soft, with your jaw slightly narrower than your cheekbones. Your face is slightly longer that it is wide, with even proportions.
If you're lucky enough to have an oval shaped face then show it off! With well-balanced features you can wear just about any style. Oval faces look particularly good paired with short, or slicked back styles that show off the face. With no restrictions holding you back, make sure you experiment with your style.
STEAL THEIR STYLE: Charlize Theron is a great example of an oval face shape – there isn't any style she doesn't suit, from an incredibly short crop through to long waves.