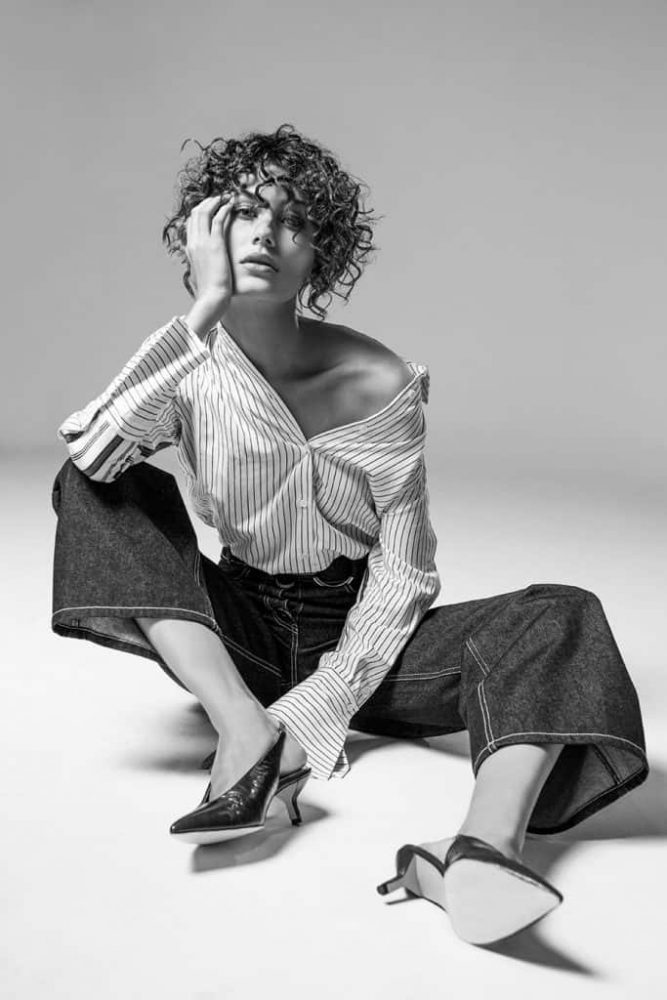 We asked our International Technical Director Nathan Walker to give us an insight into which trends he predicted making an appearance in 2020. Perming was hot topic and already we've seen the perm increasingly asked for in the salons and discussed across social media channels. Nathan just happens to be an expert, so we asked him a few more questions about the perm……
CLICK HERE to book a perm consultation with one of our expert team at either our Covent Garden or Manchester salons.
What is a perm?
A perm is a chemical way to re-shape the hair permanently. The most popular perm currently, is soft beach waves. There are three stages to perming:
1 = softening, which separates some of the disulphide bonds in the hair.
2 = shaping – the rods determine the size of the new curl.
3 = fixing, where the disulphide bonds are linked back together in a new alignment giving you the desired curls.
Will a perm damage my hair?
With the correct choice of treatments and strengths of chemicals, minimal damage would happen. The healthier the hair to begin with, the better the result. Most important to protect the hair following perming, is professional homecare to tend the needs of the altered hair.
Can you perm highlighted/coloured hair?
For hair in good condition and already coloured, perming is normally an option. If hair is in very bad condition, we would advise a course of bonding treatments to bring the hair to a strength that could be permed. Highlighted hair can be quite difficult, especially balayaged hair, because there will be different levels of condition along the length of the hair. Some of our hair specialists are able to use the Momoko Digital Perm System, which enables us to use different strength lotions on different areas of the hair which makes it easier to perm highlighted or balayaged hair.
What are the different sort of perms?
A classic perm, called a Designer Perm at Trevor Sorbie, is an alkaline cold perm that gives soft waves or tighter, stronger curls, depending on the usage. Hair is wound onto rods and the active ingredients are applied to the hair on the rods and then fixed whilst still on the rod.
Another perm is the Digital Perm, called Momoko Curl at Trevor Sorbie, this is an alkaline thermal perm where the hair is softened before being wound onto rods, then heated before being fixed into the new shape.
How long do perms last?
In general perms are permanent, very lose waves tend to be less noticeable in the hair after three to four months, however the permanent change is still there. So consideration needs to be given to this when having a second perm. A tight curl is the most resilient and generally can still be noticeable in the hair years after until it's grown out completely.
How long will perming take?
It depends on the type of perm, but it can range from around 1 hour to over 4 hours. Most salons will offer a variety of techniques, each taking a different amount of time.
Do I need to have a consultation first?
100%. Never have a perm without allowing the professional to talk through the likely result, the options for your hair, and the manage the expectation of what's achievable using perming. Most importantly the expert will be able to assess the condition of your hair, and carry out any necessary testing to confirm the suitability of your hair and desired look.
What aftercare will I need for my perm?
It is essential that professional shampoo, conditioner and treatments are used to maintain the health and condition and the correct type of styling and protecting product chosen to achieve the finished style. This ranges from serums, curl creams, curl sprays and mousses, depending on how the finished style is to look. All of this should be discussed during the consultation.
I'm not sure is perming is suitable for me, should I do it?
If you have a proper professional consultation, you'll understand exactly what you will get, what amount of time it will take to care for it and how easy it will be for you to achieve your style. Perming can certainly help someone achieve a realistic goal, and finding out what is possible for you will help aid your decision. To a certain extent, once you have all this information the only way to really know is to do it.
CLICK HERE to book a perm consultation with one of our expert team at either our Covent Garden or Manchester salons today.