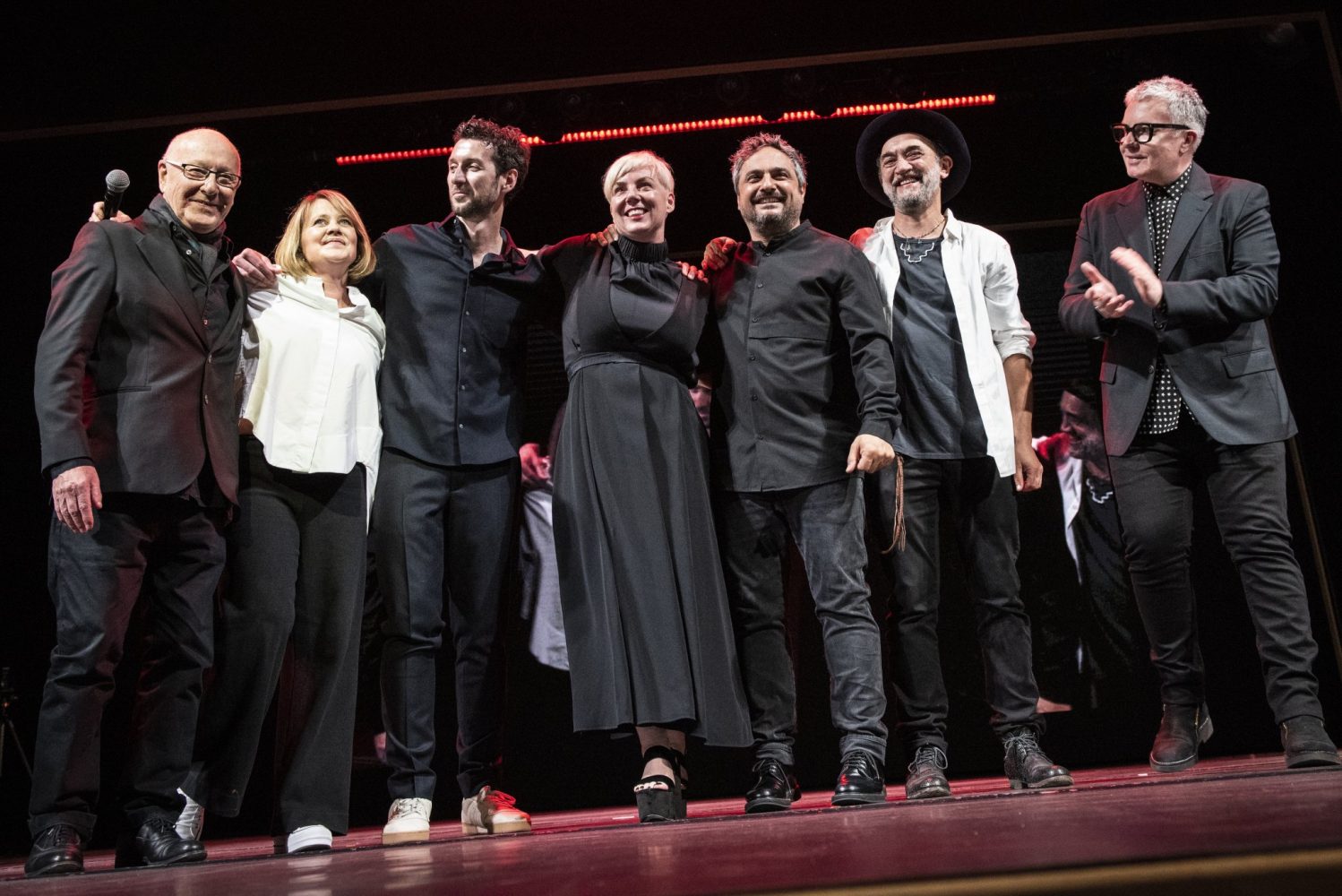 To celebrate Trevor's 70th Birthday, this year's Tribu-te Show was a dedication to the main man himself, bringing together past and current Artistic Directors on-stage for the very first time.
Selling out at the Aldwych Theatre in London's West End, the stands were packed with more than 1,000 people attending the event, which included high profile hairdressers, Trevor Sorbie fans and industry experts.
Starting with The Big One Awards, our own Trevor Sorbie Artistic Team picked up the award for The Team One, once more showcasing their talent and forward-thinking creativity with their brand-new black and white collection 'On/Off'.
Five of Trevor's previous Artistic Directors showcased their incredible talent and memories of their time at the Trevor Sorbie salon, including Antionette Beenders (Global Creative Director, Senior Vice President of Creative of Aveda), Angelo Seminara (Ex Artistic Director of Davines), Sally Brooks (of Brooks & Brooks), Eugene Souleiman (Wella Professionals Global Creative Director) and our current International Artistic Director Tom Connell.
Wowing the crowd with their originality and creativity, each told stories of their time with Trevor but also how he mentored motivated them into what they have become today. Each dazzled the audience and truly showed off their individual personality and skill – something that Trevor has always encouraged as well as determination:
"I never dreamt that I would achieve as much as I have. All I set out to be was a good hairdresser but I have proved to myself that it's not just about how clever you are, it's more about how determined you are… If you have a burning passion, coupled with determination, you can surprise yourself. If you truly believe in yourself, anything is possible… quite simply, if I can do it, so can you!"
Despite no longer cutting hair in the salon, Trevor is still a huge inspiration and presence in the UK salons. Each stylist and technician is still trained at the highest standards using Trevor's infamous Vardering program. And with the Artistic Team going from strength to strength, showcasing their talent throughout the world at seminars and events, it looks like 2020 will be an even stronger year for the Trevor Sorbie team.
Click here to view the Artistic Team's Brand New Collection 'ON/OFF'
Photography by David Hindley – Tribu-te show 2019