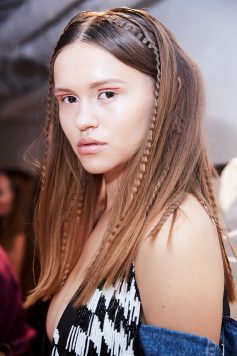 Dasha Pashevkina is the founder of fashion house PA5H. Her debut collection featured in Vogue, and was named 'one to watch' at London Fashion Week. The new collection was showcased on Saturday night, with a sports-luxe aesthetic. Luckily our team (led by Johanna Cree-Brown) were on-hand to create the perfect hair to compliment this styling. With a focus on texture using crimping irons and hair pieces, hair was soft and long, with small sections of texture and colour added throughout.
London Fashion Week styles at home:
This look is really wearable, and luckily also not too tricky to recreate at home. The best tool to use for this is a crimping iron (we used a digital version by DIVA). But don't worry you won't be having any flashbacks to the 80s! If you are unable to purchase an iron then you can always tightly braid small sections of hair (right up to the root). Then to set the crimp slowly run a hair straightener over the braid before releasing. This won't create quite as much definition, but is a great way to add a quick bit of texture to the hair.