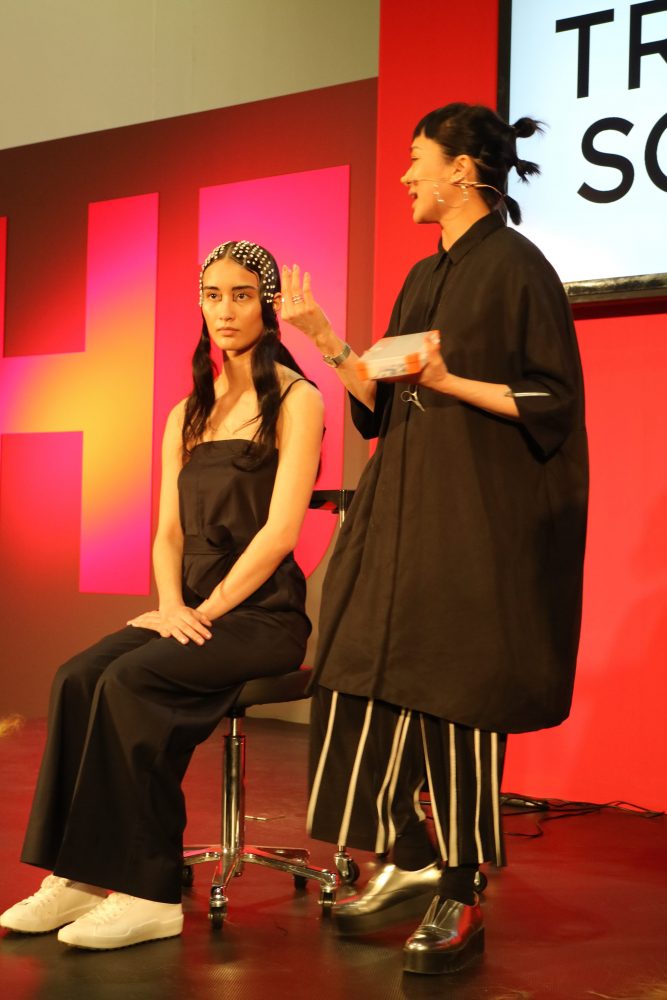 The HJ Live stage was buzzing with some incredible hair talent at the ExCel centre yesterday. Taking place within the professional beauty exhibition, there was a day of hair presentations and seminars available. Our Art Team members Mai Ha and Ryan Forsthe presented four models, completing their looks live onstage.
Mai Ha
Mai (Artistic Director, Trevor Sorbie Manchester) focused on dressing hair, using techniques developed in recent collections. Her first model showcased her skill creating shapes and patterns using hair elastic. Assisted by Davide Spinelli (Covent Garden salon), she completed the look, following the pattern she had started backstage. This look is designed to make the elastic a feature of the hair, rather than trying to hide it. Mai shared tips for trying this type of work, including 'finding a great assistant to help you' and 'not tying the elastic too tight if you want to loosen the style to create more volume'.
Her second model combined sleek, gelled down hair adorned with hole-punched paper discs to create the illusion of studs. For the slicked down hair, Mai worked through horizontal sections, starting at the nape of the neck, applying gel liberally and combing it through the hair. She continued this until she reached the face, where she created fingers waves through the front layers. Using eyelash gel she then attached the paper studs to the hair in a strong, symmetrical pattern.