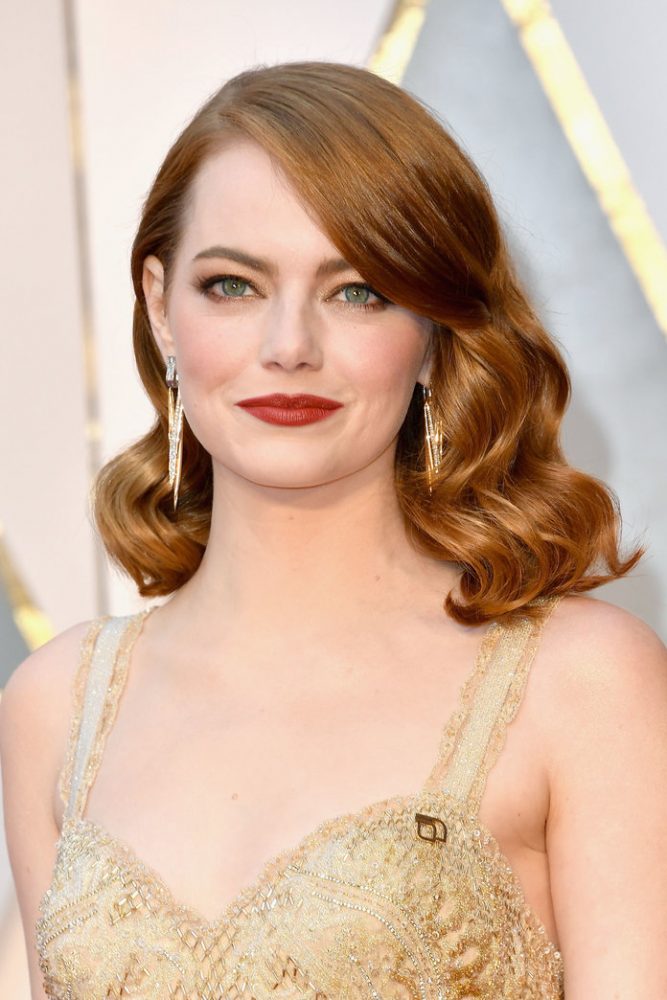 The 89th Academy Awards took place last night at The Dolby Theatre in Los Angeles. The stars of cinema were out in force to celebrate the best and brightest in the film industry. With 14 nominations, all eyes were on the cast and crew of La La Land, particularly lead actress Emma Stone. Having already taken home the BAFTA and Golden Globe for Best Actress, she has now added an Oscar to her collection. Pairing a stunning gold dress with classic hollywood waves, Stone looked the picture of a leading lady. Luckily for all of us admiring this glamorous look, it's easy to recreate her hair style at home.
Preparing the hair
For a salon result, it's imperative to prep the hair before you begin to style it. When creating curls or waves in the hair, you want to use products that will protect from heat damage, build body through the hair, and help keep your style in place for longer. Our stylists' top pick is using a mousse. This is really quick and easy to use, and should be applied to damp hair. Simply dispense a ball of mousse into your hand, and using a comb, evenly distribute through your hair. This will add texture and definition to your curls, as well some volume through the root.
The other product you should use before drying the hair is a heat protection spray. Apply this really liberally all over your hair to protect it from unnecessary heat damage when blow drying. Smooth your hair whilst blow drying to add shine, and avoid any frizz once your hair has been curled.
Creating hollywood waves
Which tool and technique you use will effect the type of curl you create. For example, straighteners will create big, glamorous curls, whereas a drop wand will create beachier waves. For Emma Stone's hollywood waves you need to create an 'S' curl. To do this you just need to follow this simple technique:
Take sections of hair approximately 1 inch wide. Remember the smaller the section, the tighter the curl. So for loose, glamorous waves try using slightly bigger sections.
Holding the bottom of the section, twist it twice towards your face (so it travels through 720 degrees).
Wrap the twisted section around a wand, away from your face. It tends to be more flattering to curl hair away from your face, but if you want to curl it towards your face for a more vintage effect, twist the hair away from your face. The rule is to always twist in the opposite direction to how you wrap the hair around the tong.
This twist and wrap technique will create the 'S' shape to replicate Stone's Hollywood wave.
Continue this for every section of your hair. Once your hair is completely cool, use a brush or your fingers to gently loosen the curls. You can then decide how you went to dress the hair. For example Emma Stone has one side pinned back behind her ear so that it tumbles behind her shoulder, but you could just as easily wear it completely loose or pinned back on both sides. Using a hair accessory is also a great way to dress up this vintage style.