When it comes to diverse and lively cities of culture, Brighton is top of the list. Trevor Sorbie is delighted to have one of its five salons located in this bustling and vibrant city. Dubbed 'London by the Sea', Brighton has it all, and Trevor Sorbie is proud to have a salon immersed in the centre of the city in Nile Street. But with such an array of things to see and do, how do you know where to start? We have created an ultimate guide to Brighton to help you get the absolute most out of your visit.
Things to Do in Brighton
When it comes to things to do in Brighton, the list is endless.
Whether you're in pursuit of an invigorating weekend away, set to get glammed up for a big night out or have time to meander through this characterful town, we have the ultimate guide to Brighton to help you get the absolute most out of your stay at this fantastic destination.
From places to eat and drink, or to find that outfit to wow on the dance floor, our style guide to this cosmopolitan city has all you need to soak up what bustling Brighton has to offer.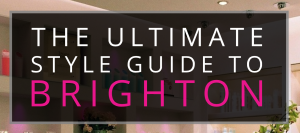 Don't worry about what to do when. Whether you need to squeeze a lot into a short stay or you've got a long, leisurely break, we've got the who, what, where, when and why for how to make the absolute most of your trip to London's cosmopolitan seafront.
Ready, Set, Go!
So, be prepared to enjoy a deep dive into all this amazing city has to offer. From history to dining out, nightlife to sightseeing and shopping, this guide has it all.
Map out your exciting trip to one of the nation's best-loved cities in our ultimate Brighton guide.
Happy exploring!